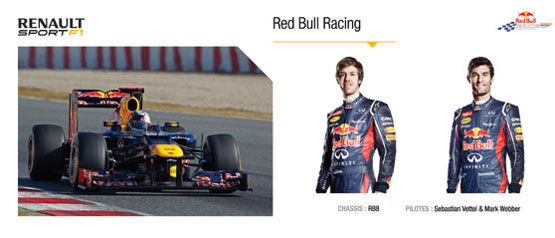 Red Bull Racing-Renault partnership started in 2007, since becoming one of the most successful in the history of championship engine-chassis partnerships cash to date 27 wins, 38 pole positions and double crowns Drivers and Constructors in 2010 and 2011. Red Bull Racing and Renault Sport F1 announced at the Italian Grand Prix in 2011 a five-year extension of their partnership.

Both teams will work together at least until the end of the 2016 season, with the creation of a technical joint venture for work on the new engine regulations to be introduced from 2014.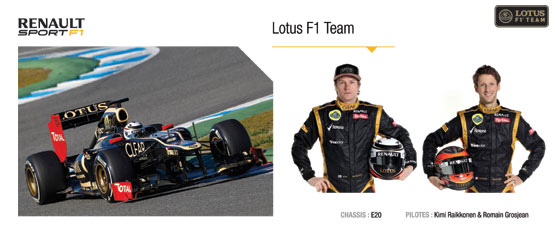 Renault has a long and fruitful collaboration with the team in Enstone. This relationship began in 1995 when Renault supplied engines to the Benetton team, led at the time by Michael Schumacher. In the first year of the partnership, Schumacher won the drivers' title and the team of Builders. After retiring as an official engine supplier at the end of 1997, Renault returned to the fore at Enstone in 2002, taking control of Benetton with the creation of the Renault F1 Team.
Enstone has become the operational base in the UK for the chassis while Viry-Chatillon remained the hub for motor activities. Under the banner Renault, the team re-emerged as a dominant force, with Fernando Alonso, who won one after world titles in 2005 and 2006. The decision to refocus its activities around the F1 engine supply led Renault to sell a minority stake to Genii Capital in 2009, before selling its remaining shares in late 2010 the group based in Luxembourg.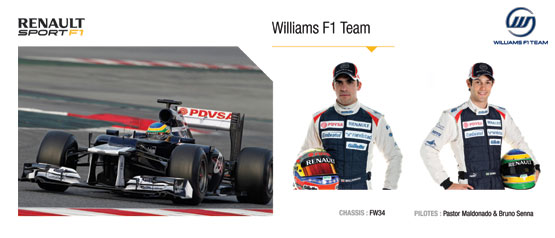 2012 sees the return of the historic Williams-Renault partnership on the grid. The duo began their relationship in 1989, with a success that ensued quickly. Nigel Mansell was first provided the double title partnership with domination in 1992, Alain Prost continued with the crown in 1993. Damon Hill and Jacques Villeneuve won respectively Drivers titles in 1996 and 1997, while manufacturers championships were won in 1994, 1996 and 1997 before that Renault withdrew from F1.

During the nine-year partnership, the pair won 63 victories, four Drivers titles and five Constructors titles. The partnership was revived in 2012.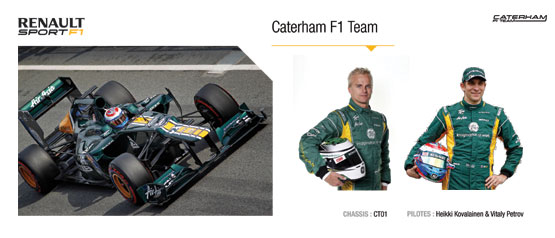 The Anglo-Malaysian team is committed in 2011, his second season in F1, powered by the Renault RS27 engine. Throughout the year, the partnership has strengthened and saw the team get involved in the midfield in the second half of the season.

Now equipped with KERS together jointly developed by Red Bull-Renault, this partnership should begin to bear fruit this season.