1898-1918
In 1898 Louis Renault and his brothers founded their company. They are quickly known by motorsport, where their carts lined victories. 
Renault factories adopt mass production in 1905, and Taylorism in 1913. During the First World War, the company manufactures trucks, stretchers, ambulances, shells, and even the famous FT17 tanks make a decisive contribution to the final victory.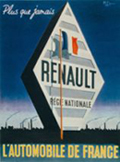 1919-1945
Renault modernized: the first chain of the Billancourt plant starts in 1929. The company squeezes costs to withstand the economic crisis. But the social climate deteriorates. During World War II, Louis Renault considers the conflict with Germany as an error: it complies with the demands of the Germans. Therefore, the company Renault was nationalized in 1945, the National Board Mills Renault (RNUR).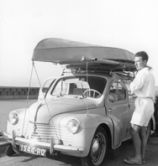 1945-1975
The Board modernizing its plants, built and bought new production sites. She tries to conquer the U.S. market but towels failure. Internationalization nevertheless continues. Success will come with 4 CV first "small car for all", then with the Dauphine, Renault 4, Renault 5 .... The Board extends its range with a high-end model, the Renault 16, which announces cars to live. 
Renault continues parallel to a dramatic increase in the rally.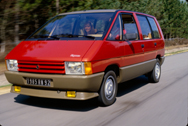 1975-1992
Growth continues until the early 80s. The renewal of the range is accelerating with the release of two high-end models: the Renault 25 and Espace. The mark is required in competitive sport made ​​its debut in Formula 1. But the company is facing large deficits. She then embarks on a drastic reduction policy costs and refocus on its core business. Renault returns to profit in 1987.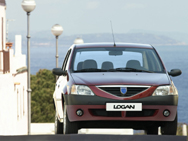 1992-2005
Renault is considering a merger with Volvo, but the project will be abandoned in 1993. Major turning point: the privatization of the company in July 1996. Freer, Renault enters the capital of Nissan in 1999. Renault continues to innovate and renew with Mégane, Laguna .. The success in Formula 1 reinforce awareness of the Renault brand. The Renault-Nissan Alliance is consolidating synergies and continue to grow. With redemptions of Samsung Motors and Dacia, Renault accelerated its internationalization. The launch of Logan is at the heart of the strategy to conquer emerging markets.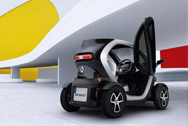 2005-2012
Carlos Ghosn, President of Nissan already, succeeds Louis Schweitzer as head of Renault. It sets up the Renault Commitment 2009 plan, which should position the group as the most profitable European manufacturer. In 2008, Renault continues its product offensive with the launch of New Mégane and multiplies initiatives for electric vehicle partnership with Better Place and EDF, presenting a Scénic prototype fuel cell concept car ZE Concept. In 2011, the first accessible to all electric vehicles are launched Kangoo ZE Fluence and Z.E. followed by Twizy. then ZOE in 2012.